Now I'm on an even bigger hiatus than before... but Grammy night was unusual. I've been going to the Grammys since 2004 and this seemed to be the most unusual one so far.
I couldn't and I still can't wrap my head around the whole Rihanna / Chris Brown debacle. Shit happens and I wish people would just stop persecuting Chris, you never know what went on in his childhood. You just can't judge people, help them. He needs to get professional help. Be positive people. I hope they both heal from this situation.
* That whole situation got me thinking about alot of things.
Usher...alright his wife was having plastic surgery in Brazil??????????
OKAY.
My favorite picture from the Grammys thanks to my homegirl Necole Bitchie at Necolebitchie.com...... what up gurlll?!!!!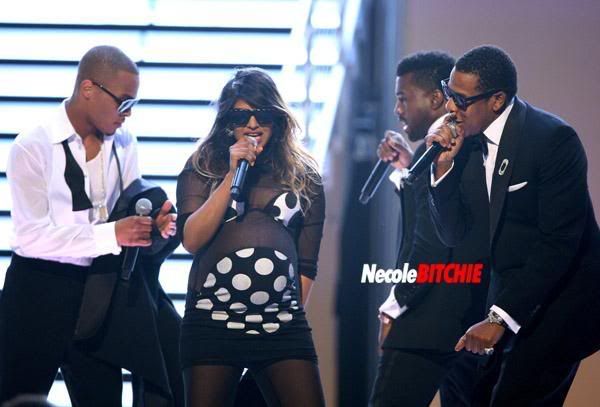 I adored this little outfit and M.I.A. dancing on stage! I felt proud to see her because I know how far she has come. What a beautiful surprise. Shout out to Diplo too! Congrats! How funny was it when M.I.A. came out and people were so shocked by her outfit that they weren't really looking at Lil'Wayne, Jay-Z, Kanye, and T.I. posing on those steps?!!!!! LMAO! She showed them up. That was funny.
Where was Beyonce?
But I agree with this little blog right here:
I think Usher, Beyonce, Chris Brown, and Rihanna could have saved the Grammy's this year. I think that this was the worst Grammys I have ever seen!
Grammys 2009
YA'LL WEIGH IN.................
I was jumping up and down for Lil'Wayne and screaming when he won.
(happy for Play-n-Skillz)
By the way, I am in the happiest mood!!!!!!!!!!!
It feels good to be me.
Be grateful everyone.
Peace out.