As Brian Phillips would say, "Rodarte killed it!"
Brian and I used to work at Visionaire and the inception of V Magazine in the late 90's. Brian has always had impeccable style and has always been well groomed. I think he came out of his mother's womb that way?! Well now he does the PR for Rodarte. (please tell me you know who they are and if you don't do your homework, okay.) The company is framenoir.com. And he does a great job of promoting them!
Claudia Wu, the owner of Me Magazine, another Visionaire alum, and my homegirl put Rodarte on the cover of one of her issues.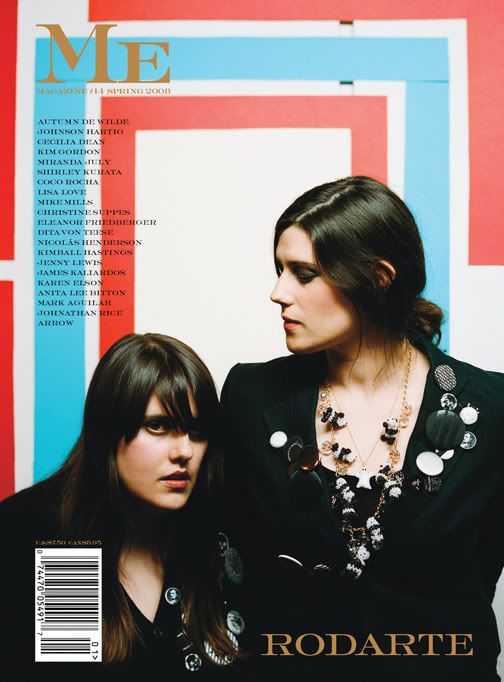 We had a party at the Sub Mercer to celebrate the issue Fashion week 2008. (winter) To say the least, usual suspects were there. Anyone and everyone who is in the inner circle of fashion.
YEAH, I love that Reese and Natalie wore Rodarte. I dislike how all those actresses in Hollywood just go for the safe route. I don't get alot of their choices but I guess they pay their stylists alot of money to handle their attire since they are too busy doing other things. (??acting??) (HA!!!!!!!!!) I really hate that manufactured look alot of those actresses have! They pose on the red carpet with the same face as the girl before and they all stand the same. Jesus. Then there are those who just make weird faces all of the time. Then there are the actresses that are trying to look sexy all of the time. Things have changed since I was a teenager. I used to turn on the tv and watch fashion shows and Style with Elsa Klensch and etc. But now the red carpet is the NEW catwalk! Turn on the tv now and its saturated with tabloid tv, reality tv, and yes... drum roll... red carpet madness from every channel on tv. (Well hip hop took a backseat when I was in my teens and now its at the forefront and I love that. I feel music is a little bit more even now.)
Damn that Slumdog! DAMNIT! Best Screenplay went to Simon Beaufoy.
I really liked last year's Cinderella story of Diablo Cody, I was on the edge of my seat for that one. This year it was Slumdog, SLAMDUNK! It just couldn't be Slumdog one right after the other! SLAMDUNK!!!! (Congrats to Danny Boyle, he is a great person and a great director, he deserved it!)
AAAAAAAAAAAAAAAhhhhhh last but not least guys and you all knew this was coming.
MICKEY ROURKE.
Larry Clark texted me that if Mickey wins to light a candle.
I prayed!
I waited all night last night for the end of the show and I got all teary eyed as Robert Deniro wondered how Sean Penn got all those straight roles all these years. HA! I was really getting teary eyed because the night was finally coming to a close and I was just so proud of Mickey that I felt very emotional. I always believed in him and I always thought he was just so great. Not just as a friend but as an artist. This business can be tough and that is an understatement. And if you are in this business you know what kind of conniving sharks we deal with. If someone like Mickey Rourke can get chewed up and spat out, you better believe it can happen to anyone! People had berated me for even wanting to work with the guy! But I held steadfast to my beliefs! Even when Quentin Tarantino sent me the Death Proof script to read, which was written for Mickey Rourke initially and there was some falling out, even when he had beef with my dearest colleagues I was always in his corner.
When Michael Douglas said Sean Penn's name I clenched my chest and I know that sounds dramatic but I just felt like Sean deserved it and MILK is Gus's movie and he is family so of course Sean should win it... and MILK is the bomb. And Gus never fails to amaze me with his tenacity making films year after year...
BUT
MICKEY!!!!!!!!!!!!!!!!!!!!!!!
I just wanted Mickey to win so bad so it would just be a huge FUCK YOU to all the haters that hated on him! AND because he worked so hard to come back and he didn't have to. He could have just went off and died but he didn't. All those people on tv who were making fun of him and etc., Do you know what its like to be an addict or to live with one? Mickey made it. Mickey got clean, he went through it man, and now he is back? How insane is that? And to be at the fucking Oscars of all places!!!!!! Alot of people felt like Mickey was walking the walk for them. That's why I was emotional and why other people were too. Hey, people were telling me at the premiere of The Wrestler in NYC in December that he might not be nominated for any awards.
Boy, were they wrong.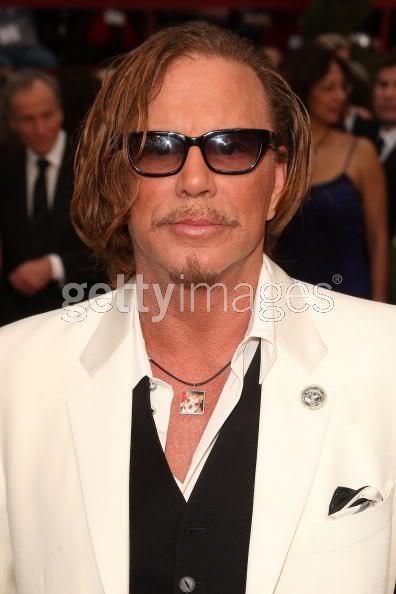 And I loved the fact that Mickey loved his little dog and wore a photo of his dog around his neck! HA! My sister said that she thinks that is something that I would do and it probably is. That's one thing Mickey and I have in common is our love for our small dogs. I know how he feels. That poor guy had nothing but his little dog for a long time. Later came the priest and the therapist I suppose.
I felt he also deserved to win the Oscar this year.
Just look at his body of work!
MAN.
Well, I am still going to light a candle. Why? For gratitude. I am grateful to know someone like Mickey because his life has taught me alot. He didn't give up. Even after all of his mistakes. He just didn't give up. He was relentless and ruthless. Most of all he had faith. He had faith in the script. He had faith in the director Darren Aronofsky.
Despite what other people thought of him.
He had faith in himself.
xoxo,
Tif