JUSTICE
This is dedicated to all my guy friends who are official haters! LMAO! This is the best video ever! ha ha ha! Than look at Pedro jumping around in the audience!?!?! He is such a big KID! HA! Xavier is really humble. Gaspar......
I LOVE IT!
It makes me feel like its really a Michael Jackson song or a song that all these people that are being impersonated, that they would really be into it if they heard the song.
This video clip is just pure 100 percent FUN! Makes me feel like a little kid with my Michael Jackson glove! 1,2,3,4 FIGHT! Get ready to IGNITE!
You can check this link out:
http://www.scion.com/broadband/the-skinny/slicks-picks/miami-justice.html
Than go to Rick's Slick Picks, Click on Justice in Miami.
Okay, Rick (from the skateboard world, he's New York hip hop head also) is someone I have known for years and the person who filmed it is a friend of mine named Ryan Monihan who finds this clip very funny. At first I did but then I was like, hey, those guys are really nice and that was kinda mean of you to tell Rick to ask those guys questions like that. Rick has no idea who Justice is and they don't know who he is and Ryan wanted to use them against each other. I guess its funny. See for yourself. If I didn't know the Justice guys I think I would think its pretty funny but, just for yourself.

STEPHEN SPROUSE
Wow, Stephen was Andy Warhol's friend and first clothing designer collaborator. He did a line for Louis Vuitton years ago and now they just did a tribute to him this year. Seems like everyone is CRAZY for him now. Susan Kirschbaum wrote an article in 2003 about how Larry Clark and I were going to collaborate with Stephen on some scarves since Larry owns all of Warhol's original scarves. When most older gentlemen blow their noses on regular handkerchiefs, Clark used those Warhol scarves! I swear, it was a truly surreal thing to witness at film festivals! Larry pulling out a neon camouflaged scarf. But a few years later Benjamin Liu, another one of Warhol's confidants and mutual friend of Sprouse and I, told me he passed away when I went back to visit New York a few years ago. It was a shock to me. I didn't know he was ill. He seemed fine the last time I talked to him.
He was a cool dude.
R.I.P.
I was surfing the internet and look at what I found? HA!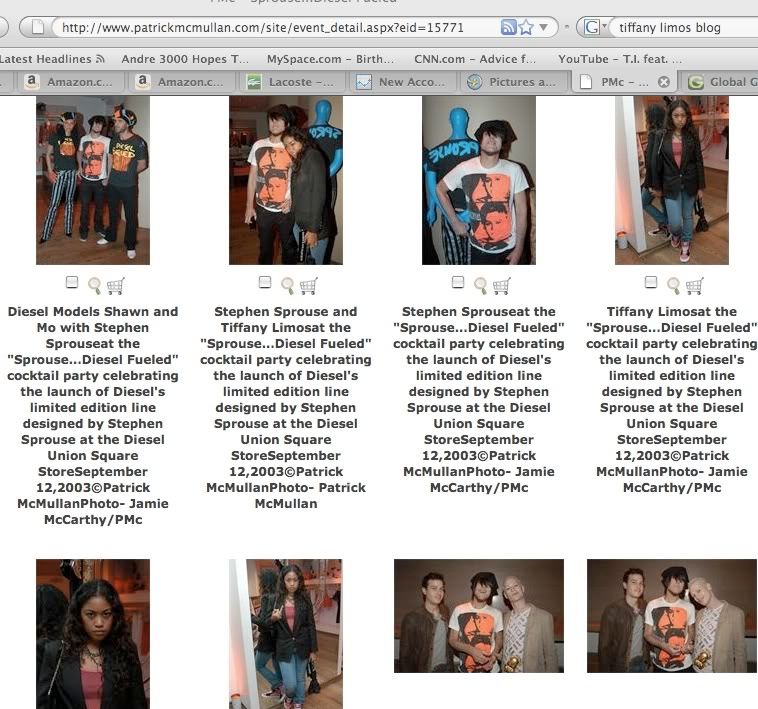 Patrick McMullan, New York's premiere paparazzi, well I wouldn't call him that because he is more than that, he was the only photographer that Warhol had around at the time and McMullan has had various books and saying that he is well respected within the community is a true understatement. I am going to order some of these prints from him as soon as I can. I don't know if you can see but there I am with Stephen and I was so delighted when I found this! I am wearing a Giorgio Sant Angelo blazer with Luella Bartley Vans & Chanel bag. Oh 2003 seems like yesterday! (Why am I looking so grim in the photos? Must have been cold outside?! ha!)

BRITISH VOGUE
Once in a while I put a blast from the past on here. Here is the interview and photo from 2002. It was about "IT" girls! I think Bay Garnett, Amanda Harlech, and a few other great names were involved.
British Vogue
November 2002
Tiffany Limos
22
2. I live in 'Money Make'n Manhattan', Tribeca to be exact.
3. Actress, Creative Consultant, Photographer, and Screenwriter.
4. Career Highlighs
Films that I have starred in are Ken Park and Teenage Caveman. Ken Park is going to the Venice Film Festival, Telluride, Toronto, Vancouver, and Deauville film Festivals 2002. So that should be fun! Being on the cover of the FACE. Being on the cover of TRACE with a 10 page story written on me. Current Centerfold for Cheapdate Magazine. I have been featured in Self-Service, Paper, Face, I-D, V Magazine and Interview Magazine.
5. Future projects - There are film offers but nothing solid at the moment. Writing a book at the moment, that won't be finished until 2004. Working with Larry Clark, Nick Knight, Craig McDean, Mario Sorrenti, and Showtime Cable on various projects. Oh yeah, I can't wait until I start production for the scripts that I have written. The process is long and stressful but it will be worth the while.
6. What is your style - I admire Janis Joplin, Anita Pallenberg, and Lou Lou de la Falaise's styles but who doesn't! I am not into any random/trendy look. I just have my look. My own style. I love the store Resurrection in NYC/LA. I mainly own vintage and thrift pieces. I also own many rare Giorgio Sant Angelo pieces and an Yves Saint Laurent suit. Many, many vintage Chanel, Giorgio Sant Angelo, & YSL scarves.
A best buy would be to find a bra that fit well, I can never find one that does!
7. What is your artistic ethos - what are you trying to put out there? Something realistic?
Positivity. Self-security. Reassurance. Who cares what people think or say, do what YOU want to do. If they criticize you, then, so WHAT!