Claudia and I landed at Charles de Gaulle airport on March 3rd to a rough start. I left some of my items on the plane. I didn't sleep because of the rough turbulence.
Right before we even boarded the flight to Paris New York was experiencing a foot of snow. We took a cab to the airport and he got lost! This was on March 2nd.
March 1st I ended up hanging out with Leyla of Hearts Revolution, a band that is on Kitsune and my friend Marissa. We honest to G talked for hours and I felt drained. I was supposed to meet my friend Tim in Soho but I just had to bounce.
Than my cousin Jean Grae finally hit me up and I just couldn't say no. We have been trying to meet for months but she has been in the studio recording! So yes we finally meet up when the snow starts and we just have a blast until the bar kicks us out. We stood outside waiting for the cab and he doesn't show up. So we are standing outside at 6th and Berry in Brooklyn alone, dead streets, freezing! I start to think that things will get better until the people in the bar leave and we are stranded for real. No cars were on the streets and it looked hopeless. We both started shivering and I started to wonder why I left Texas and California weather for this?! Jean tells me to walk down the block because there is a bank. I am thinking, what is a bank going to do? We walk and the winds pick up and blow more snow and cold up our skirts and nostrils letting us know that things will not get better. There was no bank in site. The wind was blowing so hard from one direction that I decided to hide in a corner and scream! I started to look at Jean and I was like hey she doesn't have a hat and she is wearing a skirt and boots! Than somehow snow got all up around her boots and thighs! I do have pictures of this that I will post up on here. She than has someone pick us up. We go back to the bar and wait and some dude is there harassing us until we can't take it anymore. Than our ride comes to save the day!
Saturday February 28th - that was a hectic day because I had to return the car I was using and I took the train which I never had taken in Long Island, it was just a total mess. Than I went to hang out at Starbucks for a coffee, see Marissa in BK, than met up with Claudia at Southside. We chatted with Tim for a bit than went to Bungalow 8 to see the LRG family. Kareem Black was there and it was on.
Friday February 27th - was hectic. Julion and I arrive to NY. LATE. Just in time to go to La Esquina and Southside. Marissa has a funnier version of this story and maybe we should just keep that to ourselves. We went to the Bowery Bar also and this place Little Frankie's. Marissa tells me that all our old skater homies eat there and she was shocked when I told her that I had never been there before.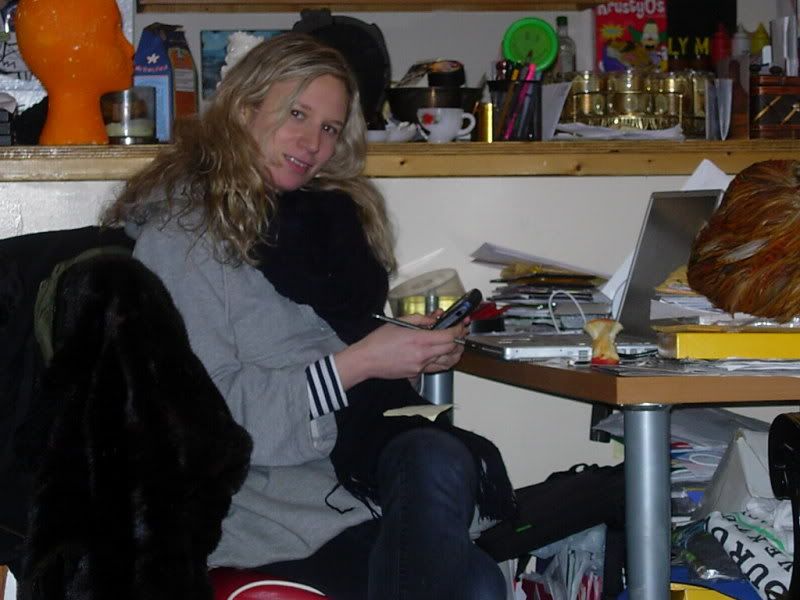 Marissa chilling in her crib.
Clive!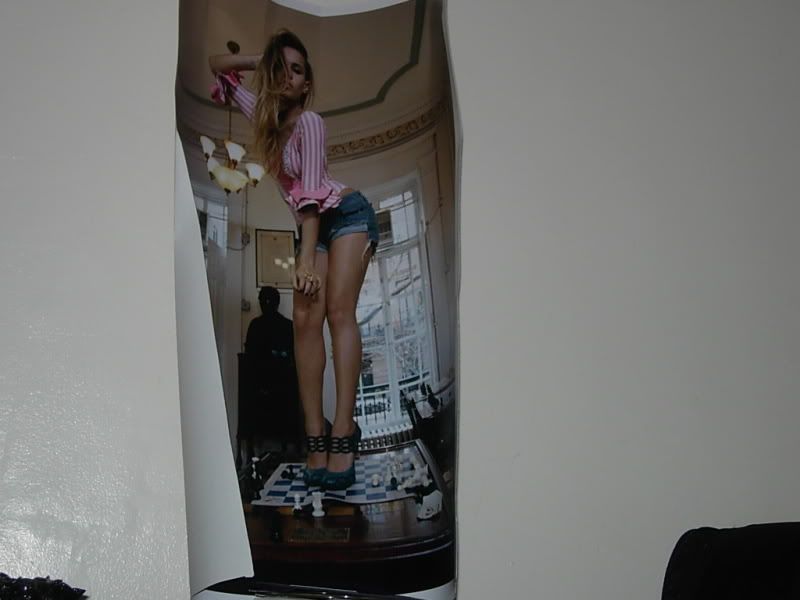 Some of Marissa's amazing work.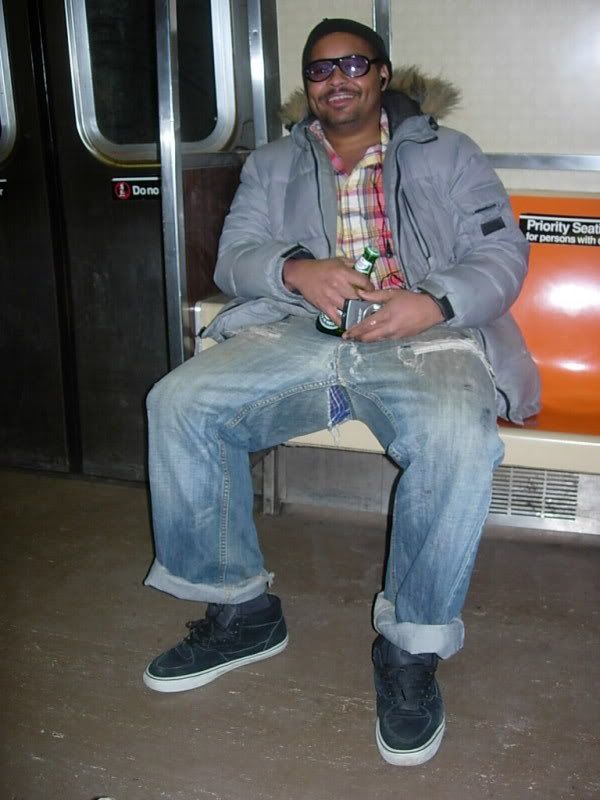 DESOLE I'M SOOO SORRY.... (THE NIGHT WE CAME FROM MICHEL GONDRY'S HOUSE!)
Fast forward to today. I am about to go to sleep but I just wanted to jot down a few things. We land and go to my friend's apartment. Scott Barnhill, he is a friend I have known since I was 15 years old. All you fashion heads would know who he is. Claudia and I get lost. Our phones don't work! So we are scrambling around to get to Scott. We catch up with him and he tells us he is in a band. To my surprise its pretty good! It's called Black Box Exposed. Check them out! Than Claudia and I just went strolling around and had a tea/coffee. We also had to buy a phone. We ate. Now I am exhausted.
Gotta wake up early in the morning!
Bonne nuit,
TL
* I will post photos and videos later, I am just too tired.
...........................................................
Here is the information for the Ed Banger party on Friday.
Vendredi 6 Mars 2009 au Bataclan - Minuit
Free your funk : Stones Throw meets Ed Banger
Après le succès de notre anniversaire (la vidéo : http://vimeo.com/2435838 ), Free your funk est de retour pour une nouvelle soirée au Bataclan et en heureuse compagnie. Après les avoir reçu séparément en Décembre, on vous propose en effet d'assister à la rencontre de deux labels : Stones Throw et Ed Banger. Trois lives et 7 artistes pour une nuit qui oscillera entre funk à l'ancienne (Mayer Hawtorne), electro-funk (Dam-Funk), hip hop twisté (DSL)... on pourrait continuer en tentant d'accoler une étiquette à Peanut Butter Wolf, Busy P, DJ Mehdi ou James Pants … Seulement, ça fait longtemps que Stones Throw et Ed Banger se plaisent à brouiller les pistes et ne sont respectivement ni seulement hip hop ou electro.
La preuve ce soir avec quelques uns des artistes qui auront marqué notre année 2008 et le début 2009 de l'album « Welcome » de James Pants au nouveau maxi « Pocket Piano » de DJ Mehdi en passant par le 45tours en forme de cœur de Mayer Hawtorne.
Lives :
James Pants (Stones Throw), Mayer Hawtorne (Stones Throw), DSL (Ed Banger)
DJs :
Peanut Butter Wolf & Dam-Funk(Stones Throw), Busy P & DJ Mehdi (Ed Banger)
.
Les 400 premières préventes à 16 euros sont en ligne : ne tardez pas trop…
http://www.digitick.com/free-your-funk-soiree-electro-le-bataclan-paris-06-mars-2009-css4-digitick-pg101-ri176822.html
ou
http://www.fnacspectacles.com/place-spectacle/manifestation/Musique-electronique-FREE-YOUR-FUNK---BAFRE.htm
Un petit déroulé de la soirée…
Mayer Hawtorne (Stones Throw) : Live / 0h30-1h
Un 45 tours qui a fait le tour du monde : forcément… et tourne en boucle sur Nova. Un ovni qui nous replonge dans années 50/60 et un multi-instrumentiste qui déclare de la plus belle des manières sa flamme au label Motown. http://www.myspace.com/mayerhawthorne
James Pants (Stones Throw) : Live with the Royal Zodiac Band / 1h-1h30
Son premier album s'appelle « Welcome » : il est sorti sur Stones Throw l'an passé. Son premier concert à Paris il y a quelques mois avait confirmé le bien que l'on pensait de James Pantalon. « We're Through » ou « You're the one » sont des tubes ! Si vous ne connaissez pas, il est encore temps. La vidéo de « We're Through », ici :
http://www.youtube.com/watch?v=qvErrmMZNVY
DSL (Ed Banger) : Live / 1h30-2h
Ecoutez "Find me in the world" ou "Invaders" là : http://www.myspace.com/dslbros
DJs sets : 2h-6h
Dam-Funk, DJ Mehdi, Busy P, Peanut Butter Wolf (+vidéo)
Il sera 2h ou 2h30. Le Bataclan sera plein comme un œuf. Place aux DJs. Dam-Funk en grand spécialiste de l'electro-funk eighties fera à Paris sa première apparition. On vous invite à vraiment à ouvrir grand vos oreilles. Les deux boss de Stones Throw et Ed Banger se défieront sur un ring de box. DJ Mehdi jouera pour la huitième ou trente deuxième fois à notre soirée… On ne sait plus mais on ne se lasse pas.
L'artwork est réalisé comme pour toutes nos soirées par Tom&Leo : on ne se lasse pas non plus!