Belvedere IX Launch Party
NEW YORK - FEBRUARY 12: Artist Andre and musician Andre 3000 attend the Belvedere IX Launch Party at The Bowery Hotel on February 12, 2009 in New York City. (Photo by Michael Buckner/Getty Images for Moet Hennessy USA)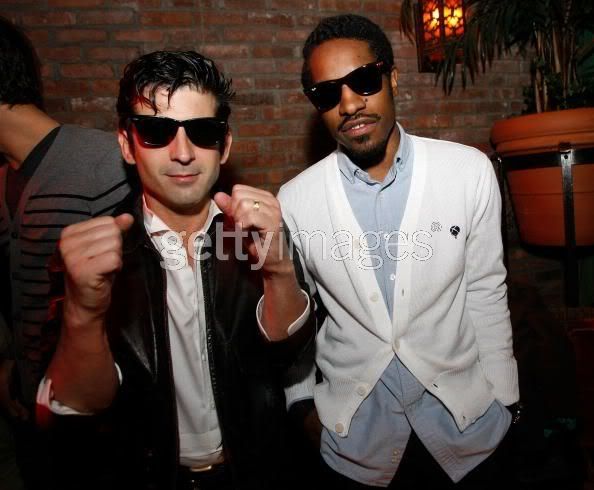 Don't these two Andre's just make you want to be apart of their club? HA! (as 3000 would say) These Andre's from two Alien planets couldn't be more polar opposite and more similar at the same time!!! God I love my life.
Andre Saraiva the king of nightlife from France to Tokyo. I had my 25th birthday at his club Le Baron in Paris. That was the party that everyone from Daft Punk, Chloe Sevigny, Agnes B., Gaspar Noe, Michel Gondry, Gael Garcia Bernal to Elton John attended. Google him if you don't know who he is.
Both have been tested in their fields and have come out on top. Andre Saraiva, a little more obscure but well respected within my circle of friends, top artists, top musicians, luxury brands, and top fashion magazines around the world. He has slowly but surely conquered nightlife in ways that only others can dream of. He knows his history with art, he isn't just one person who sees something and judges on the superficial, he knows the history behind every little movement he makes. I appreciate a man, an artist like that.
Andre 3000 = God is always smiling down on that man, I swear. He will always be successful.
Andre Benjamin GQ article.
J'adore Andre Saraiva!
J'taime Andre Benjamin!
Look out for a collaboration with Tiffany Limos, Larry Clark, and Andre Saraiva in the near future.
ANDRE SARAIVA WILL BE AT CLUB SUITE IN DALLAS THE WEEK OF SXSW. HE WILL BE DOING AN INSTALLATION. UFFIE WILL ALSO BE PERFORMING. MORE DETAILS ON THIS LATER WHEN I GET INFORMATION FROM THE OWNER AND DALLAS AMBASSADOR, MATTHEW GIESE.