I received an IM from Jason Matthews at
TheJay.com
to tell QT Happy Birthday.
All I could think of was... Oh SHIT! I forgot.
(You might remember the hilarious skit that Mr. Matthews wrote about Quentin and I coming back from the Philippines in 2007... I even called Larry Clark and told him about it and we read it, laughed so hard until we teared and almost choked! I emailed Jason and he never got back to me and than I myspaced him... than I got the feeling that he thought I was going to kill him or curse him out... better yet, throw down a law suit! But no, I emailed him and told him that it was the best piece on the flight yet! So many people had written about it and it was all over the Tarantino blogs, it was on the cover of the New York paper, the Australian paper, it was on the cover of the Asian newspapers... so I had read it all... than when I read his piece, I was like man, this thing has gotten so out of control that people are writing skits on it! And Jason's wasn't the first one or the last one I read but his was sincerely the BEST! Even Larry Clark said it was the best and he rarely speaks on other artists. HA! Jason was so shocked that I loved the skit he wrote that he called his friends and even his dad and told them that I actually reached out to him about the piece. I eventually ended up getting on the phone with him and I think he still thought I was going to rip him 4 A-holes but I was so thrilled to hear the author's voice, I just started laughing and praising him. I told him I was shocked to read that someone nailed Quentin and I in a sarcastic fashion. What Jason wrote is exactly the stereotypical things people think about Quentin and I. I love the piece and I laugh every time I read it. ENJOY! *Get a tissue, you will need it.
Tarantino & Tiffany Limos skit!
)
I am too overwhelmed in my own little world at this point to remember anything.
I called to wish him a swell (how old is he again?) birthday.
Happy Birthday My Filipino Brotha! (just kidding) *Inside joke.
Who cares about birthdays? I do.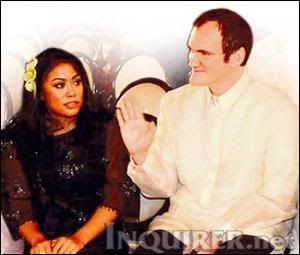 2007 Malacanang Palace Philippines
Oh yeah, can't wait to see him at Cannes... and this film below!