I am new to this so I am not sure what to do. I think I will treat it like a virtual diary somewhat? I think I will start with some recent stuff and go back, then forth.

Some people have been wondering where I have been. Even some of my closest friends have been wondering what I have been up to, I just do whatever I feel like doing. I am the real M.I.A.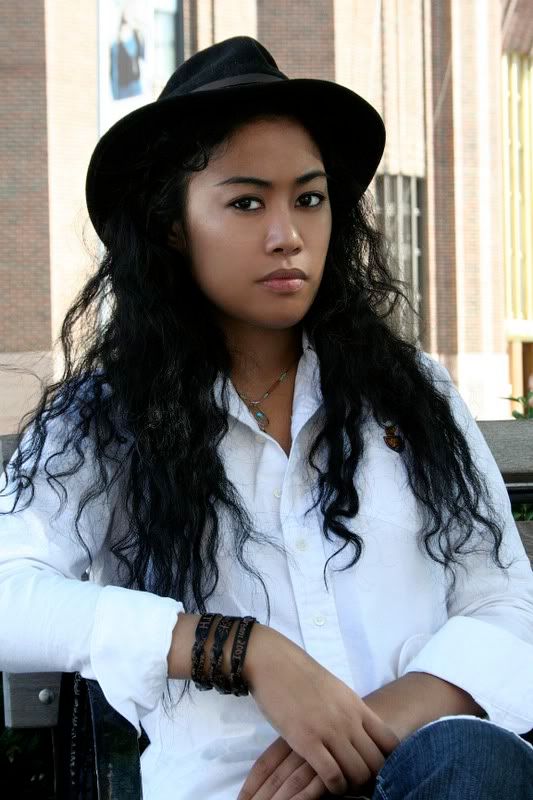 Here is a photo of me by my friend Juan e. Martinez by my old stomping grounds near my Tribeca studio in New York City. This was taken in October of 2008.
An old bio written by Natalie Guevera in the beginning of the 2000's, probably in 2004. This bio was published in the DDD magazine, on MySpace, and TiffanyLimosOfficialWebsite (that is now defunct):
Bio by Natalie Guevara
TIFFANY LIMOS
Those who claim the new millennium has yet to find its definitive It-girl icon had better brace themselves for Tiffany Limos. A modern-day Renaissance woman, Limos has worked extensively in all spheres of the entertainment industry, including film, music, art, writing, fashion, dance, and behind-the-scenes production. Boasting an impressive resume sprinkled with acting credits, magazine titles, and numerous accolades from colleagues and fans alike – as well as the distinction of being the sole female muse to filmmaker Larry Clark – she is not only a force to be reckoned with, but the living embodiment of hard work and perseverance. Blessed with brazen determination and an optimistic, sky-is-the-limit outlook, Limos is a breath of fresh air for critics who insist the Hollywood stars of today have lost all charisma and sparkle. In performing a deft balancing act between the mainstream and downtown art worlds, Limos has defied any fanciful notions of what an ingenue should be and do, preferring instead to go about things her way, all the way. Hers is a story that is the very quintessence of the American dream, seemingly impossible yet awe-inspiring all at once.
AMERICAN GIRL FROM TEXAS
A first-generation American, Tiffany Rochelle Limos was born January 31, 1980 in Dallas, Texas to Licerio and Nanette Limos, both Filipino immigrants. Her father hails from Pangpanga, Philippines – notable for its Muslim religion and tribal culture – while her mother was born in Leyte, regarded as the most Catholic and Spanish-dwelling island of the Philippines. A family friend of jazz composer Duke Ellington and distinguished Spanish and Chinese artists in America and Internationally, it is no surprise that her daughter's interest in the arts, particularly the cinema, developed at a very early age. Spurred by her equally passionate father to pursue a home-schooled, yet top-notch film education, Tiffany Limos began a steady consumption of almost ten films a day, familiarizing herself with everything from the Blaxploitation pictures of Jack Hill to acclaimed foreign films like the Godard masterpiece Band of Outsiders. B-movie rentals from the neighborhood video store were the norm at the Limos household – not, as one would suspect, out of preference, but because, at one dollar per movie, it was what the family could afford. Campy fare such as Silent Night, Deadly Night (1984), Little Shop of Horrors (1960), and Dolls (1987) entertained young Tiffany for hours, leading her to playfully refer to these films as her "babysitters." These early films meant so much to Limos that they would reapper in her adult life - in the form of a vintage "Dolls" movie poster fellow B-movie expert Quentin Tarantino gave the passionate (B-movie) fan for her birthday.
By the age of eight, Limos had mastered the art of using both video and photo cameras, and by age ten her knowledge of distinguished directors – Howard Hawks, George A. Romero, and Martin Scorsese, to name a few – rivaled that of many film scholars. Never the type to settle only for those who have achieved mainstream success, Limos also fostered great appreciation for underground cinema and the maverick filmmakers who shaped it, including John Cassavetes and Samuel Z. Arkoff – the latter of whom would eventually go on to work with Limos on Teenage Caveman (2002), Larry Clark's playful send-up of the '50s-era sci-fi movie.
FASHION, FLAIR, & VISIONAIRE
At fourteen years old, Limos put down her video recorder and tried her hand at working in front of the cameras instead. Her short-lived but successful career as a model spawned print work for various catalogues and campaigns as well as fashion editorials in YM, Seventeen, Sassy, and the popular UK publication i-D, the first magazine to ever feature Limos. Two years later, Limos' unique look and innate sense of rhythm enabled her to embark on a stint as a backup dancer; she went on to appear in music videos for hip-hop stars such as Brandy, the Fugees, Lauryn Hill, Nas, Snoop Dogg, and the Wu-Tang Clan.
That same year, Limos' experience in the fashion world qualified her as the perfect assistant in shoots for eminent American designers Tommy Hilfiger and Calvin Klein. At nineteen, she quickly upgraded from assistant to magazine maven when she helped jumpstart the innovative fashion publication V Magazine along with Stephan Gan, Cecilia Dean, James Kaliardos, Alix Browne, Alessandro Magania and Claudia Wu. Limos also explored the alternative fashion magazine realm by joining editors-in-chief Bay Garnett and Kira Jolliffe in launching Cheap Date Magazine, a fun, unpretentious look at shopping and style. With contributors ranging from the high-end to the hip – Kate Moss, Anita Pallenberg, Marlon Richards, Chlo.. Sevigny, Rachel Weisz, Liv Tyler, and Harmony Korine were but a few of the notable names involved – Limos was in excellent company.
Motivated by the advice of her colleague, Anette Wenzel (of Wilson/Wenzel), these years also witnessed Limos pursuing higher education in the top-tier New York universities NYU and Columbia, successfully maintaining a 4.0 grade-point average despite her involvement in various extracurricular activities.
"YOU SHOULD BE IN PICTURES…"
The year 1999 proved to be a fateful one for Tiffany Limos. Much like the starlets of yesteryear who were accidentally "discovered" in commonplace drugstores and diners, Limos encountered industry outlaw Larry Clark, a critically-acclaimed photographer and director of the controversial hits Kids (1995) and Bully (2002), in the most ordinary of places: a New York City bookshop. Clark's eye for talent (previous discoveries include Chloe Sevigny, Harmony Korine, Rosario Dawson, Leo Fitzpatrick, Harold Hunter, Michael Pitt, Justin Pierce, and Daniel Francese) was, once again, spot-on: he knew he had something special with Tiffany Limos. In turn, Limos – who always knows a good opportunity when she sees it – seized the chance encounter to show Clark several writing samples. Impressed by this ballsy wunderkind with an artistic voice sophisticated beyond her years, Clark commissioned Limos to write several screenplays. The deals were inked in 2001.
This is not to say there weren't certain interruptions in Limos' burgeoning writing career, however. In 2001, Clark began casting roles for his most complex and character-driven film to date, Ken Park. The character of Peaches de la Cruz, a teenage girl who is regularly abused by her religious fanatic of a father, possessed a strong emotional arc requiring everything from sweet naivet.. to sexual curiosity to psychologically-charged hopelessness and despair – hardly the kind of role given to a typical ing..nue. Limos' limited acting experience was exactly what Clark was looking for; he wanted an unknown, someone who looked young but could express mature emotional depth, drawing more on raw feeling than stylized acting technique. Limos, whose biggest role up to that point was playing the Virgin Mary in a school play, accepted Clark's offer with little trepidation. She went on to star in Ken Park alongside fellow first-time actors James Bullard, Stephen Jasso, and Mike Apauletegui.
The film opened in 2002 to much controversy, with some critics calling it Larry Clark's most dangerous, risk-taking offering to date. Nevertheless, Ken Park garnered critical acclaim and various accolades from distinguished individuals in the art world, including fashion designers Marc Jacobs, Hedi Slimane, Karl Lagerfeld, Raf Simons and legendary filmmakers Spike Lee, Quentin Tarantino, Michel Gondry, Woody Allen, Olivier Assayas, Wong Kar-wai, Gaspar Noe, Takashi Miike, and Jean-Luc Godard (whose sister, Veronique, served on the jury of the 2003 Nantes Film Festival with Limos and later went on to produce and collaborate on projects with the starlet). Limos' performance as Peaches was especially lauded, with Clark himself singing her praises in numerous interviews. "In Ken Park, we were doing amazing things in front of the camera. Tiffany is the perfect example," he revealed to Paper magazine later that year. "What she does in front of the camera is so real and so tender. In the scene where Peaches' father has caught her having sex with her boyfriend and forces her into a ritualistic repentance ceremony, I was crying the whole time."
PRINTED MATTER
Though several acting offers came her way after Ken Park, Limos decided to settle down and focus on her greatest passion: writing. She has always felt a natural inclination to be behind the scenes and create rather than seek the glow of the spotlight; indeed, it is through words and the documentation of experiences that Limos reaches her strongest form of expression.
In the midst of her fruitful writing period, Limos still found time to provide great features for several magazines. In particular, her OneWorld Magazine cover story on music superstars the Neptunes (a production duo comprised of Pharrell Williams and Chad Hugo) yielded some thought-provoking responses from the interviewees, with Williams offering insightful comments about race relations and the African-American community and Hugo claiming it was the first time he was asked about his Filipino roots. "You are one of the very few people that actually approached me about [being Filipino]," he told Limos in the interview. "I think it helps younger people realize that it's not impossible to do what you want to do. The only thing is, is that if you do it, you gotta be great at it."
Hugo's message was one Limos could relate to. In 2003, her candor and honesty in regards to race and ethnicity made her a compelling subject for the many magazines that featured her. To date, Limos has graced the covers of U-Topic (the premiere publication of Tahiti); "Rebel," one of France's top fashion magazines – Limos' cover outsold previous covers starring supermodels Kate Moss and Gisele Bundchen, and helped launch the stars of Larry Clark's 2006 feature "Wassup Rockers");Audrey; El Mundo; UK magazine The Face(along with Larry Clarks other famous "kids" – Sevigny, Fitzpatrick, Pitt, Hunter, Dawson, and Rachel Miner); and Trace, being the first Polynesian to do so (Limos went on to be featured in their book Transculturalism as one of the celebrity transculturalist icons to watch along with Rosario Dawson, songstress Alicia Keys, and Nigo of the clothing line Bathing Ape). It was in this landmark spread for Trace that Limos, a go-getter involved in all facets of art and entertainment, gave herself her most appropriate title to date: hustler. "I did everything," she boldly told scribe Claude Grunitzky. "I hustled! You want to talk about a girl who's a hustler? Tiffany Limos is a hustler."
Limos was also profiled in such prestigious publications as Complex, The Dallas Times, Flaunt, Harper's Bazaar, Interview (in which she was hailed as one of the "Catchers in the Rye" for the new art generation and influential for years to come), The LA Times, The New York Times, Nylon, Paper(in which she was featured as one of the "Most Beautiful People of 2003"), Radar, V/Visionaire, Vibe, Vice, Vogue (UK, French, Japan, Spanish, and Italian editions, the last of which she was hand-picked as a favorite cinema personality by famed photographer Ellen Von Unwerth for a sensuous spread), and Women's Wear Daily (in which she was selected, along with Maggie Gyllenhaal, James Franco and other ingenues, as one of the millennium's most promising young cinematic influentials).
REBEL QUEEN
The years 2004 and 2005 also found Tiffany Limos steadily at work, particularly in the music industry. With her remarkable creative foresight, Limos envisioned a harmonious match between avant-garde music video director Michel Gondry and upcoming hip-hop star Kanye West; this eventful meeting, hatched and arranged by Limos, eventually led to the Gondry-directed video for "Heard 'Em Say," Kanye's third single off of his sophomore album, Late Registration (2005). Limos helped produce the effort alongside Gondry and Julie Fong.
Limos' networking prowess also spawned meet-ups between artists as dynamic and diverse as Paul Barman, Pharrell Williams, Kelis, Fiona Apple, Jon Brion, Sean Lennon and Andre 3000 of Outkast; she even did a bit of collaborating of her own when she lent her vocals to Sam "Squeak E. Clean" Spiegel's Bumble Beez album and assisted Sean Lennon on a film short that accompanied his critically-acclaimed "Friendly Fire" (2006) album.
Limos re-teamed with Gondry to collaborate on his film The Science of Sleep (2006), a charming study on dreams and reality starring fresh-faced international icons Gael Garcia Bernal and Charlotte Gainsbourg. She also collaborated with Gondry and comedian Dave Chappelle – whom Limos has known since 1996 – on the documentary Dave Chappelle's Block Party (2005), an innovative take on the regular stand-up comedy routine/concert inspired by Richard Pryor's Wattstax (1973).
TRANSCULTURALISM
Naturally, being a small minority in an industry overpopulated with the thin, blonde-haired, blue-eyed female ideal is difficult, especially when the minority happens to be Polynesian, one of the most poorly represented cultures in Hollywood. Ever since she was a child, Limos has endured racism and discrimination; her hope is that, rather than derail her, these hardships will only deepen her drive to succeed. Despite any criticism she may receive for her differences, these very characteristics are what have made Limos a cut above the rest. They have landed her in the pages of the most esteemed fashion magazines, positions Limos has wisely used to her advantage by showcasing both her beauty and brains, promoting her film projects, and speaking out about the issues of most importance to her. As she explained to Trace magazine: "We are a new breed of people. It's harder for us because we have to live up to the Filipino communities, we have to live up to the American communities. We're not Filipino enough, we're not American enough, we're not Spanish enough."
But people have begun taking notice. Last year, The Filipino Channel (TFC), the highest-rated channel in all of Asia, featured Limos in a segment titled "The Biggest Filipinos in America" along-side Filipino-American icons DJ Q-Bert (Skratch Piklz), Chad Hugo (The Neptunes) and APL (Black Eyed Peas). The actress was interviewed about her views on the Polynesian community and praised for challenging conventions and embracing her sexuality, both on- and off-camera. Limos is already a well-known media figure in countries such as France, Italy, the Philippines, and Tahiti.
UP-AND-COMING
With several projects on the horizon, the future seems bright for Tiffany Limos.
When not discussing production duties or developing her screenplays, Limos makes time to involve herself in worthy causes: several charities she works closely with are Love 4 Leyte (which helps the landslide victims in her mother's native island) with DP Magazine and the Black Eyed Peas, the Children of the Philippines, Hurricane Katrina, The Writer's Foundation, The Agape Spiritual Center in Culver City in California, St. Michael's Catholic Church in Dallas in Texas and the Harold Hunter Foundation (established in loving memory of the late skateboarding star).
One may have to look back to the example set by outstanding artists such as Dennis Hopper, Cindy Sherman, and Jean-Michel Basquiat to be reminded of those who, in not limiting themselves to one gimmick, sphere, or profession, have become an essential part of the very innovative dialogue that bore them. Over the years, Limos has successfully navigated her way through artistic communities both large and small; she has rubbed elbows with everyone from fashion photographer Bruce Weber to renegade artist Nobuyoshi Araki and formed an extraordinary network of inventive friends and revolutionaries along the way. Tiffany Limos is a deserving member of this circle of dreamers and boundary-pushers. Ever familiar with the bold-faced names of the glitterati and hipster elite, it will not be much longer until her own creative brilliance comes to light.